Lean Sales
-book presents:
One end to end methodology on how to apply Lean in Sales
5 interviews with senior executives on how to create winning sales culture
20 case studies from companies that have implemented Lean in Sales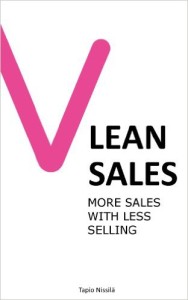 Lean has been applied in manufacturing and shop floor operations for decades with success. Sales and service processes in general have been larglely left out. Lean Sales -book presents a serious attempt at applying Lean in Sales. The book also presents experiences and learnings from 20 B2B companies that have applied Lean in Sales with success.
The author has worked as a sales person, sales manager and sales executive in small and larger companies including IBM and PriceWaterhouseCoopers. The author has also worked as a management consultant focusing on sales strategies and sales management of B2B companies. Everything presented in this book has been tested and proven to work in more than one B2B organisation.
Buy the book on Amazom.com and join the Lean Sales movement!