100 day Lean Sales Transformation plan helps organisations create breakthrough results in Sales with Lean thinking. 100 day plan is designed to get Lean Sales Transformation started and to engage your team into work. There are no consultants, only Lean Sales experts coaching, guiding and supporting your team.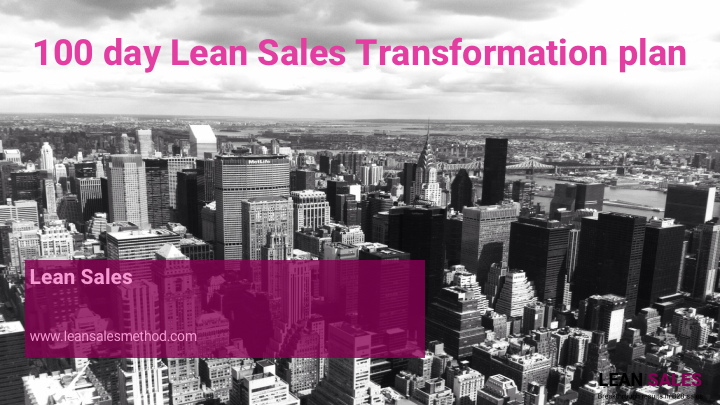 Lean Sales Transformation plan is based on the Lean Sales book. This is not a consulting project (with defined project plan, deliverable and schedule) but an on-going engagement to improve your sales process regardless of starting point. The purpose is to help you and your organisation to take a next step in creation of predictable and sustainable sales results.
We do:
Analyse

Identify issues with your current sales process
Identify underlying root causes with your current sales process and sales system

Improve

Help you identify potential solutions to identified issues
Work hands on with your sales team
Help you define Key Performance Indicators that drive sales results

Manage

Establish a method for continuous improvement
Coach and guide your through out the 100 day process
You'll get:
Lean Sales book (available also on Amazon.com)
Online Access to Lean Sales tools and templates
Dedicated team of Lean Sales experts to guide and support you and your team
Continuous improvement method (and eventually culture)
This is the impact:
More sales with less selling
Shorter sales cycles
More profitable customers
Lower cost of sales
Higher quality of sales process
Improved customer satisfaction
[wow_divider]
You can learn more about companies that have created successful Lean Sales transformations from the Lean Sales book or more about the Lean Sales concept on our YouTube channel.
[wow_divider]
Book a telephone conversation about the 100 day Lean Sales Transformation plan now